Contact: Rev. Ronald V. Myers, Sr., M..D., Founder & Chairman
                National Juneteenth Holiday Campaign
                National Juneteenth Observance Foundation (NJOF)
                National Juneteenth Christian Leadership Council (NJCLC)
                National Association of Juneteenth Jazz Presenters (NAJJP)
                662-247-3364    662-247-1471
                e-mail: JuneteenthDOC@yahoo.com
                web site: www.NationalJuneteenth.com
Georgia Now the 37th State to Recognize Juneteenth
Sen. Lester Jackson Champions Juneteenth Legislation in Georgia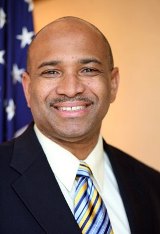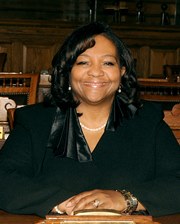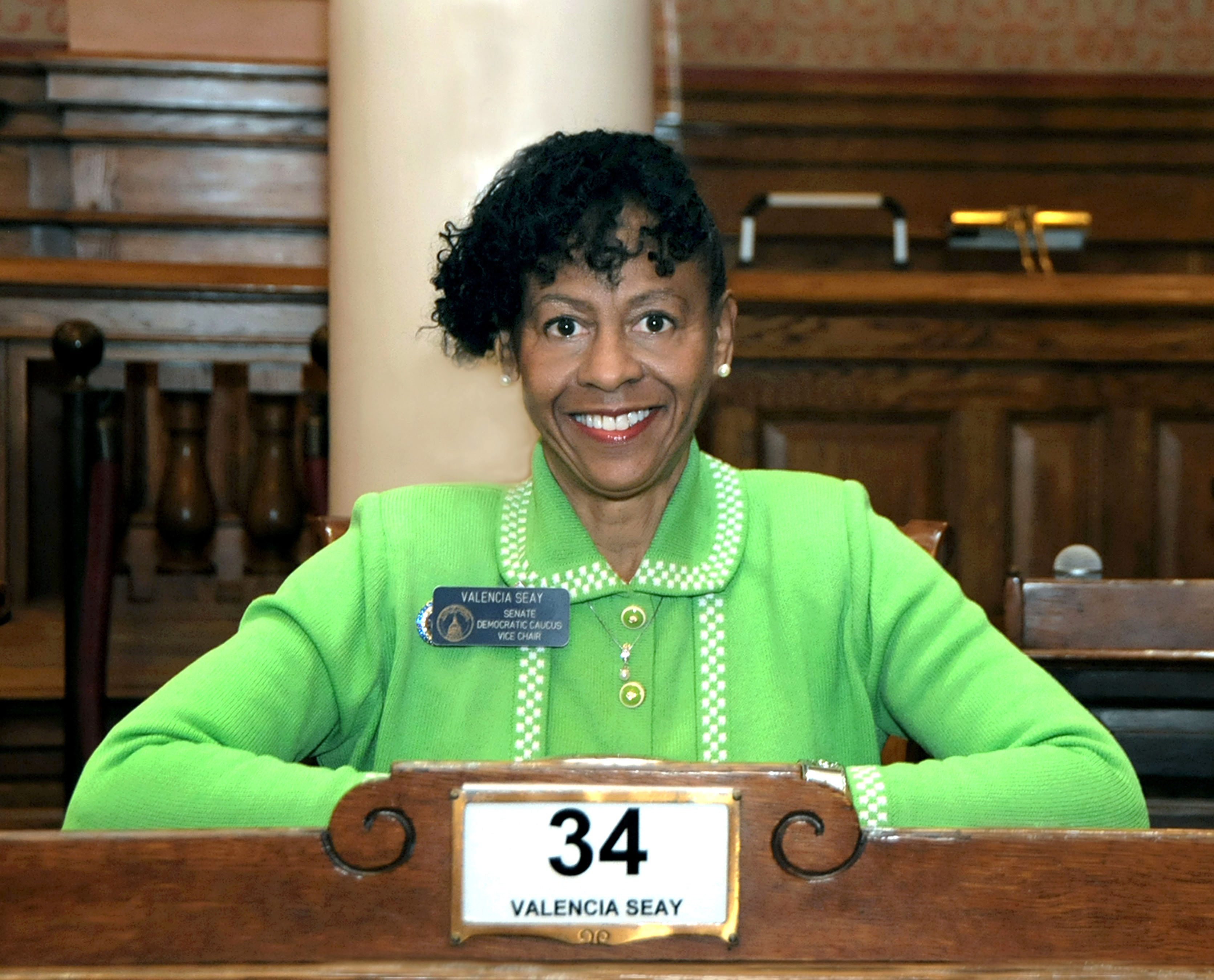 Rev. Ron Myers       Sen. Lester Jackson   Sen. Donzella James      Sen. Valencia Seay
(Atlanta , GA) - National Juneteenth Holiday Campaign Chairman, Rev. Ronald V. Myers, Sr., M.D., was glad to hear the news about the passage of S.R. 164 by the Georgia State Senate recognizing the "19th of June" as Juneteenth Celebration Day. Georgia is now the 37th state to celebrate the of end of enslavement in America.

 "Georgia joins Texas, Florida, Oklahoma, Delaware, Alaska, Idaho, Iowa, California, Wyoming, Illinois, Missouri, Connecticut, Louisiana, New Jersey, New York, Colorado, Arkansas, Oregon, Kentucky, Michigan, New Mexico, Virginia, Washington State, Tennessee, Massachusetts, North Carolina, West Virginia, South Carolina, Vermont, Nebraska, Ohio, Kansas, Wisconsin, Minnesota, Indiana, Mississippi and the District of Columbia in recognizing the end of enslavement in America," states Rev. Ronald V. Myers, Sr., M.D., Founder & Chairman of the National Juneteeenth Observance Foundation (NJOF).

Juneteenth commemorates the day when slaves in the last geographic area in America where slavery existed learned of their freedom. This took place on June 19, 1865, in Galveston, Texas, when Union General Gordon Granger read General Order #3, announcing that "all slaves are free" by Proclamation of President Abraham Lincoln. The Emancipation Proclamation was signed by President Abraham Lincoln on September 22, 1862, and issued on January 1, 1863. It took over two and a half years for the news to travel to southwest Texas .
"We especially appreciate Senator Lester Jackson for sponsoring the legislation that has made all of this possible," states Dr. Myers. "We also want to thank Sen. Donzella James and Sen. Valencia Seay for their support for Juneteenth to be recognized at the state capitol."
Now that Juneteenth is recognized in  Georgia by the state senate, Myers is hopeful that perhaps Georgia U.S. Senators Saxby Chambliss and Johnny Isakson will support legislation in the U.S. Congress to officially place Juneteenth on all calendars.
"We are not asking for a paid federal holiday, which will be a burden on tax-payers, but a National Day of Observance like Flag Day or Patriot Day," states Dr. Myers. "As more states like  Georgia  pass Juneteenth legislation, with only thirteen states remaining, we hope that President Barack Obama and the U.S. Congress will finally officially establish a day for the observance and celebration of the end of slavery in America."
Thousands of petitions have been forwarded to the White House urging President Obama to make Juneteenth a National Day of Observance and to establish a Presidential National Juneteenth Commission to provide advice on how the annual observance of Juneteenth Independence Day can bring all Americans together with the goal of promoting greater understanding and racial healing.  
A similar petition drive is pushing for the issuing of Juneteenth "Flags of Freedom" postage stamp by the USPS. 
"The official recognition of Juneteenth Independence Day and the end of enslavement by state governments and the U.S. Congress are very significant steps in bringing healing to America from the legacy of enslavement," states Rev. Dr. Myers, also Founder & Chairman of the National Juneteenth Christian Leadership Council (NJCLC), the National Day Reconciliation & Healing From the Legacy of Enslavement and the annual WASHINGTON JUNETEENTH National Holiday Observance.

For information on the National Juneteenth Holiday Campaign, the National Day of Reconciliation & Healing From the Legacy of Enslavement, the WASHINGTON JUNETEENTH National Holiday Observance and Juneteenth Celebrations in Georgia, contact Rev. Ronald V. Myers, Sr., M.D. at 662-247-3364 or e-mail: JuneteenthDOC@yahoo.com or web sites: www.Juneteenth.us and www.NationalJuneteenth.com.



 ______________________________________
Senate Resolution 164
By: Senators Jackson of the 2nd, James of the 35th and Seay of the 34th
A RESOLUTION
1 Recognizing "Juneteenth Celebration Day" in Georgia ; and for other purposes.
2 WHEREAS, the Emancipation Proclamation was issued by President Abraham Lincoln on
3 January 1, 1863, and General Lee surrendered in April, 1865, officially ending the United
4 States Civil War; and
5 WHEREAS, news of the Emancipation Proclamation and the end of slavery did not reach
6 Texas , Oklahoma , Louisiana , Arkansas , and California until June 19, 1865; and
7 WHEREAS, on that evening, thousands of former slaves flooded the streets in spontaneous
8 celebration, rejoicing in the news of their long awaited freedom; and
9 WHEREAS, the nineteenth day of June has been observed as "Juneteenth" to commemorate
10 the joyous events of June 19,1865, and Juneteenth celebrations have occurred in states across
11 this great nation; and
12 WHEREAS, "Juneteenth" and similar Emancipation Day observances formally recognizing
13 the abolition of slavery are now officially observed in numerous states, Washington , D.C. ,
14 and internationally in countries in Africa, Asia, Europe, and South America ; and
15 WHEREAS, Americans of all colors, creeds, cultures, religions, and countries of origin share
16 in a common love of and respect for freedom, as well as the determination to protect their
17 right to freedom through the democratic institutions by which the tenets of freedom are
18 guaranteed and protected; and
19 WHEREAS, it is only fitting and proper that the State of Georgia appropriately recognize
20 this glorious event marking the end of slavery and the beginning of freedom for so many who
21 had wrongfully suffered in this state and nation.
22 NOW, THEREFORE, BE IT RESOLVED BY THE SENATE that the members of this body
23 hereby recognize "Juneteenth Celebration Day" in remembrance of those who received the
24 exultant news of their freedom and as a memorial to all those who suffered from the cruelties
25 of slavery, and encourage ceremonies, celebrations, and other activities to be held in their
26 honor.
27 BE IT FURTHER RESOLVED that the Secretary of the Senate is authorized and directed
28 to transmit an appropriate copy of this resolution to the National Juneteenth Observance 
29 Foundation.